DeFi Development Company
As a leading DeFi development company, we offer end-to-end services across different decentralized finance standards and in almost every major industry. Our decentralized finance solutions will help in transforming your business and help in the growth of the decentralized finance based applications that can aid in reshaping the crypto world. Be a part of the financial revolution with our decentralized finance development company.

Decentralized Finance Development
DeFi provides opportunities for financial service providers to make the most from the decentralized blockchain development and transform their products through our DeFi development services. Decentralized Finance (DeFi) is an open-source finance protocol and is one of the most revolutionising concepts introduced through blockchain. The DeFi solutions empower the investors by providing them with complete ownership of the digital assets and allowing them to trade these assets with complete transparency. This is made possible through automated smart contracts that are coded. Therefore, the decentralized financial model brings about all the advantages of blockchain technology into the financial spin.
DeFi Development Services
We as an expert in the DeFi development company are here to offer you the best and most innovative Decentralized Finance development company. We can help you build decentralized platforms and associated solutions for your financial business where your users can lend, borrow, stake, and make an investment using cryptocurrency. All of this occurs under a secure and transparent space through blockchain technology.
DeFi DApps Development
The DeFi development company allows you to build decentralized applications by using state-of-art technologies and tools. We help build and deploy decentralized finance applications on a peer-to-peer network without any central point of failure. Since there is no involvement of the centralized authority the dApp on the blockchain network promotes high security and transparency for the users.
DeFi Token Development
Our DeFi token development services help businesses create and launch a DeFi token from the start. We have a team of developers who are experts in building secure, utility, payment, and equipment tokens on different blockchain networks. And launch your native token for your Decentralized Finance development protocol and grow your platform worldwide. As your token's demand increases, so does your business.
Decentralized Exchange Development
Our team helps you create decentralized finance exchange so that you can trade Decentralized Finance development tokens and easily manage DeFi wallets. The DeFi exchange does not require any central authority or governance, while also offering users high security, privacy, and transparency over the data. For this, we come up with end-to-end decentralized exchange development and deliver high-performance Decentralized Finance development exchange software that allows users to easily exchange cryptocurrencies.
DeFi Smart Contract Development
Our best team develops autonomous smart contracts that allow users to verify and execute crypto-related transactions, or agreements without the involvement of the third parties. Automated and encrypted smart contracts that allow safe crypto trading and configurable financial operations. Our team is an expert in building and launching solidity based smart contracts for different kinds of businesses.
Decentralized Finance Wallet Development
With the help of our Decentralized Finance development company, you can come up with secure DeFi wallets that make sure the traders have complete control over their funds and data. Our DeFi development company has a team that creates DeFi wallets that allow users to access. And secure their data without any third party involvement. Allow users to be their bank, with our secure and high performing DeFi crypto wallet.
DeFi Lending/Borrowing Development
Our Decentralized Finance development company provides a safe and permissionless. DeFi lending platform that lets users supply and secure their funds through smart contracts which can be borrowed by paying certain interest. Again our DeFi development company lets you build a lending/borrowing platform development service that allows you to build a DeFi protocol for lending funds or making use of loans.
DeFi Staking Platform Development
Let your users generate safe rewards and earnings from digital assets collected in native tokens through the use of any blockchain network. We offer complete solutions that cover DeFi staking platform development with a secure and powerful earning system. No matter if you need a Decentralized Finance development staking platform on any blockchain network. Also our customized DeFi staking platform development services meet up with everyone's business requirements.
DeFi Yield Farming Development
Let the users of the Decentralized Finance development generate passive income through different DeFi protocols in the process of yield farming. Moreover, our Decentralized Finance development team allows traders to benefit from yield farming by providing world-class Decentralized Finance development lending protocol solutions. Also you can provide your user's opportunities to lend their crypto assets, and move across different platforms.
Benefits of Decentralized Finance Development Services
The Decentralized Finance development protocol provides a whole new opportunity for businesses that provide financial services. Besides, it also provides flexible Decentralized Finance development solutions to users globally. The DeFi based protocols have experienced an immense rise recently, as a result of secure and higher performance DeFi protocols. Through our unique customized DeFi development services, you can create a new revolution. And this will help in providing several benefits and also enhance the accessibility of the financial system. Our DeFi development company provides world-class Decentralized Finance development services and solutions by using Web 3.0 facets. Users can benefit from our decentralized finance development services and business ventures can make the most from the decentralized platforms.
Automation
Our DeFi based platforms are fully automated and require no manual interference. And by effective use of smart contracts the need of any third party or intermediaries. So the entire platform is fully automated. The users have complete control over their crypto assets, funds, and data.
Smart Contracts
We are experts in building solidity-based smart contracts that allow both parties to agree to non-editable mutual agreements, which are automatically executed. Again smart contracts make it very easy to handle the complex structure of decentralized finance protocol without any conflicts as smart contracts are automated.
Money Legos
The Decentralized Finance development based applications can be built above each other to attain quick access and profits. So in DeFi development the money legos are the process that involves using lego blocks, where the developers build unique decentralized applications using the same blockchain baseline. As it allows higher compatibility and quick association for different projects.
No Intermediary or Third-Party Involvement
Without intermediaries and third parties the transaction cost is faster and at low fees. And process the transactions without any in-betweens or hidden fees in the decentralized finance development services.
Highly Secure
Data thefts and security breaches are no longer a problem with peer-to-peer blockchain networks which ensures the existence of several core-operational nodes. So this makes the entire decentralized platform very secure and fast.
Pseudonymous Transactions
Although the distributed ledger system is public, the transaction is completely anonymous and secure. And the identity linked to the profiles is not revealed hence the transactions are fully secure.
DeFi Development Services for Various Sectors
We provide Decentralized Finance development services for all major industries. As a proficient DeFi development company, we develop and deploy decentralized finance-based projects to all major industries. When it comes to us – the Decentralized Finance development company like ours, we uncover the characteristics and features of DeFi based apps. We are known to provide top-notch DeFi solutions, as our team of developers provide the most reliable and effective solutions to all kinds of businesses based on their requirements.
Our Decentralized Finance Development Service for Various Blockchains
We provide a top-class decentralized finance platform to all kinds of businesses based on different requirements. Each project requires the use of solicited blockchain networks. This has to do with the transaction speed, enticing part fee, immediate query resolving, and constant updates that are needed to be based on the market trends. We render different blockchains that our team is ready to develop and deploy decentralized finance development services as mentioned.
Why Choose Our DeFi Development Company ?
Today the technology is moving towards decentralization, and that is why there is an increase in the demand for DeFi based applications. Our team of Decentralized Finance development developers allow you to make impeccable use of blockchain technology in the world of decentralized finance. Our team of developers are experts in blockchain technology and the decentralized realm. When our team of developers take up the project to create Decentralized Finance development platforms and make sure the core structure is built using the apt components. From encryption to storage tools, everything is chosen based on the project requirements We provide your DeFi developers who put together your business for every prospect, based on the gravity of this technology and make it more adaptable. If you hire DeFi developers from us, it is rest assured that you will get world-class Decentralized Finance development services and solutions that work best for your project requirements.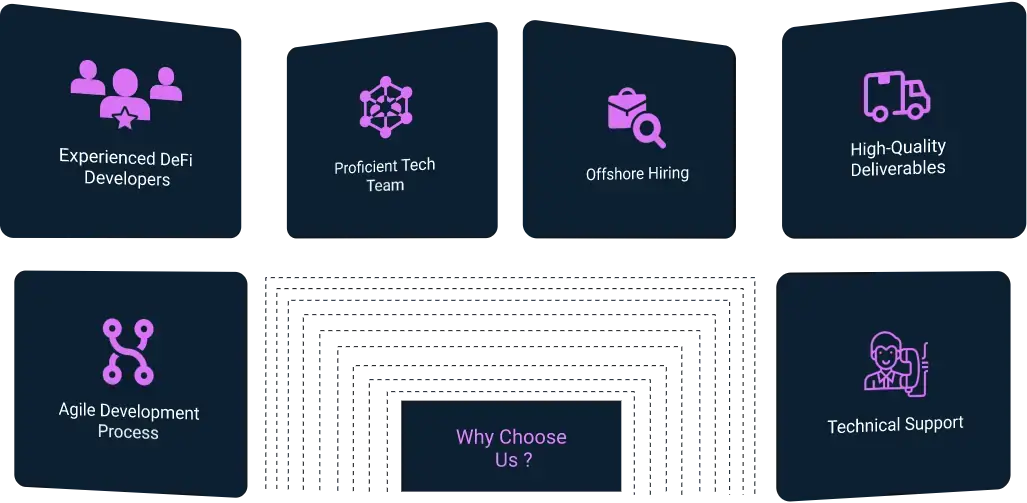 DeFi Development Company (FAQs
Do you want to know more about DeFi development services? Check out the FAQs section for more information.
Q. What is Decentralized Finance (DeFi)?
DeFi is a blockchain-based application that runs without any control from the central authority over the assets and allows permissionless transactions that are executed through smart contracts.
Q. How much time does it take to complete the DeFi project?
Well, it all depends upon the features, and functionalities needed for the specific project. Based on your business requirements the time needed to develop the project will vary.
Q. Is the transaction fee high in the decentralized exchange?
Since there are no middlemen or third parties involved the transaction fee is quite low.
Q. Why should you use DeFi ?
Decentralized Finance development based platforms offer many benefits, out of these benefits, one of the major benefits is that there is no involvement of any third party or middlemen. Hence low transaction fees.
Q. Is DeFi safe for businesses?
All in all decentralized finance is safe as there is no involvement of third parties. From transactions to privacy everything is secure on the distributed ledger technology. Moreover, the smart contracts further make it even more foolproof.
Q. Is decentralized finance better than traditional finance?
Yes, since everything occurs over a blockchain network, decentralized finance is more secure, transparent, and trustworthy.
How Can We help?
Contact Us
+91 884 729 4714
Drop an Email
mark@blockchainatic.com
Interested in our service
Decentralized Finance development can completely revolutionize the transactions, safe and secure peer-to-peer payments, smooth microtransactions, or even build self-executing smart contracts. Again we put our knowledge and skills into work and provide you with the best DeFi development solutions.