Dapp Development Company
Build trust among your clients and leverage the perks of our exceptional dApp development services. Notably our team of dApp developers help your business with decentralized applications that are highly secure, and scalable, that can help your business gain profits. And from interactive UI/UX design, to design, development, and launch, we guarantee end-to-end dApp solutions that can help gain unparalleled growth.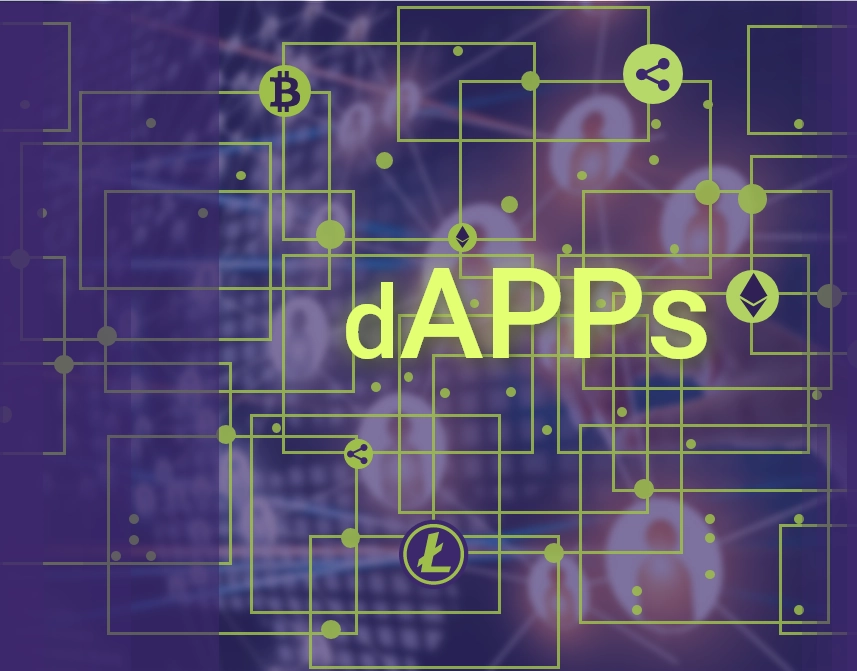 Leverage the Best DApp Development Services for your Next Big Thing in the Blockchain-World
Ethereum
Ethereum is one of the most widely used blockchain networks used for crypto transactions and smart contract development. So hire our dApp developers are experienced in leveraging the functionalities of the Ethereum network and developing the best dApps for your business.
EOS
EOS network is well-known for fast transactions and no transaction fees. Moreover, if you are looking forward to the maintenance of the decentralised app, then EOS is the best blockchain network in such a case. Also our team will help you build scalable and industrial-grade dApps.
Hyperledger
Thus this blockchain platform is mainly for open-source dApp platforms and related tools. In addition, the Hyperledger blockchain network can help your business gain more trust, transparency, and security. And our team utilizes the cross-industry functionalities of the network to build a functional decentralized app.
Tezos
Notably, Tezos is an open-source blockchain framework for decentralized assets and apps. Again it is a perfect choice for a business model with a sharp market trend, with structured and long-term upgrades, then Tezos is the perfect decentralized solution for your business.
Hashgraph
If you want to build a business marketplace with state-of-art security and consensus protocol, then Hashgraph is an ideal solution. Thus the blockchain framework provides you with a fair, and consensus business model based on the asynchronous BFT (Byzantine Fault Tolerance) algorithm.
Cardano
Cardano provides a very secure and scalable POS timestamping model. So if you are looking for privacy and security, then Cardano can be the best option to build decentralized applications development. And the decentralized apps built on Cardano are highly scalable, secure, and provide high-grade privacy.
Stellar
Stellar is an open-source platform that is used to build decentralized financial applications. Moreover our team will help you with advanced security features, adapting to the decentralized applications that can provide fast and secure fiat and digital transactions.
TRON
TRON is a decentralized blockchain framework which can be used to build high-performance dApps. Thus we provide reliable Tron dApp development services that aim at improving the transaction speed, scalability, and simultaneous users on the network.

Discovery & Gathering Requirements

Also we will conduct competitor research, and feature mapping, specify the technical components, analyze your competitors, and identify your business goals in this phase.

Design

And our designers make sure the users have the best user experience and interaction while using the dApp. Again our team creates high-fidelity wireframes and prototypes for your decentralized app design.

dApp Development

Again our team of proficient dApp developers code all of the features and functionalities like the source code, smart contracts, and others. So all of the components of the decentralized app are developed efficiently.

Testing

Therefore decentralized app is rigorously tested for bugs and errors, and evaluated for security and performance until the app is completely error-free and free from vulnerabilities.

Deployment

And once the decentralized product is free from errors, we successfully deploy the dApp on the selected platform and make sure the app is available for all of the users.
Agile Development Process
Dedicated & Experienced Team of dApp Developers
High Level of Expertise in dApp Protocols
Frequently Asked Questions
So do you want to know more about Blockchain dApp Development company ? Check out the FAQs section for more information.
Q. What are Decentralised Apps (dApps)?
Thus dApps are applications that are built on a peer-to-peer blockchain network. also they offer a secure and smooth transaction process as compared to traditional apps.
Q. What are the most popular blockchain networks to develop your dApps?
Significantly bockchain is the backbone of decentralised applications. And as a leading dApp development company we make use of some of the most popular blockchain frameworks used by dApp development experts Ethereum, Hyperledger, Tron, Stellar, EOS, etc.
Q. What will be the cost of decentralized application development services?
Therefore cost of dApp development services depends upon the business requirements. So, the cost of developing dApp depends upon many factors including project requirements and tech stacks. Also our dApp development company provides you with cost-effective custom quotation.
Q. What are the benefits of using the dApps development company?
So one of the main advantages of the dApps is that there is no involvement of the centralized authority or middleman. Moreover, the dApp network is free single-point of failure, thereby making it a very secure platform.
Q. What are dApp development platforms?
Notably DApp development process is to develop decentralized applications on a peer-to-peer network where the backend code runs. Thus the dApp is executed through smart contracts. Also we provide leading-edge dApp development solutions to different business spheres.
Q. What are the features of dApp development company?
So here are some of the features of the decentralized apps:
Fast processing
Immutable security
Trustless and transparent
Self-managing
Need More Help?
Contact Us
+91 884 729 4714
Drop an Email
mark@blockchainatic.com
Interested in Our Service
Our team puts in their time and knowledge to power up your business and deliver outcomes based on clients' requirements. Reach out to us to get an outstanding tailor-made proposal for blockchain DApp development services instantly.